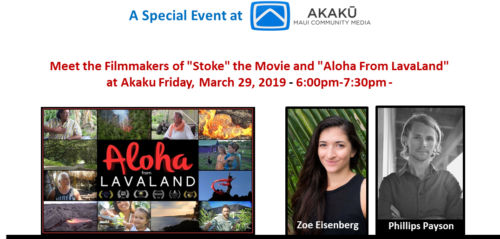 Please join us for this special "Meet the Filmmakers" event on Friday, March 29th. Filmmakers Zoe Eisenberg and Phillips Payson will be at 
Akakū 

from 6pm – 7:30pm to lead a Q & A discussion of their independent film projects, what it takes to make a movie in Hawaii, and how "Stoke" their feature film, came to be. ("Stoke" the movie will be playing at Kihei Cinemas at 7pm on Thursday, March 28th.)
This Q & A session will follow a special screening of a 55-minute documentary of "Aloha From LavaLand," directed by Phillips Payson and Suzenne Seradwyn, produced and written by Zoe Eisenberg.
On June 27, 2014, Hawaii's Kilauea volcano erupted and lava began flowing directly toward the center of Pahoa, a small seaside town on the big island of Hawai'i. Aloha from LavaLand tells the story of one Hawaiian town coming together with strength and resilience.
The film explores what it really means to live in an unpredictable paradise, and what the incident can teach the rest of the world about community, sustainability, harmony, and aloha. Aloha From LavaLand was conceptualized in June 2014 by three partnering production companies, all local to the Big Island of Hawaii. Together, this group of filmmakers set out to document the Kilauea lava flow from the inside out, capturing an intimate side of the story not showcased in mainstream media.
From the beginning, representing an authentic point of view was vital to the storytellers, who were witness to the way national media began to overhype certain aspects of the flow while completely ignoring others. The Aloha From LavaLand project quickly morphed from the coverage of a national disaster into an anthropological study of what it means to live in modern day Hawaii. Please join us for this special screening.
---
What: Meet the Filmmakers at Akakū: A Screening of "Aloha From LavaLand" with a Filmmakers Q & A about "Stoke" the Movie 3/29/19
Where: Akakū Maui Community Media Lab (Above the Akakū Studios) 333 Dairy Rd. Suite 204 Kahului, HI 96732
When: Friday, March 29, 2019 – 6:00pm-7:30pm